Asbestos removal from Roofs, Walls and Eaves, Flat Sheets & Flashings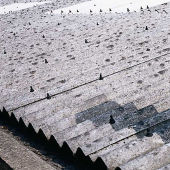 Roofs, walls and eaves, flat sheets in flashings, those are the most common areas where asbestos material is found in our homes. Many of us lived with asbestos in our homes for decades, many of not knowing or not appreciating the dangers of asbestos used in building materials used to construct our homes, some of us just purchase a property and are facing the inevitable prospect of renovating, however the first step is to remove that pesky and hazardous material.
Please let us help you, we will tell you how much the removal will cost, and if you approve we will remove all the asbestos safely and proficiently.