Removing Asbestos Sheds, Garages, Fences & Other Small Structures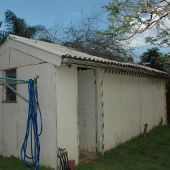 Those small structures litter many of our backyards; built of material that has been so versatile, and with many great insulating properties.
Many handyman and backyard mechanics spend countless hours in or close to those structures, most of them were built by those who had the basic construction know-how, many others by professional builders, the builders were the ones exposed the most, do not extend your families exposure to the asbestos for any longer.
If you just purchased a property and have found one of those small structures on it, please get rid of it if not us, then give one of the other asbestos professionals a call.